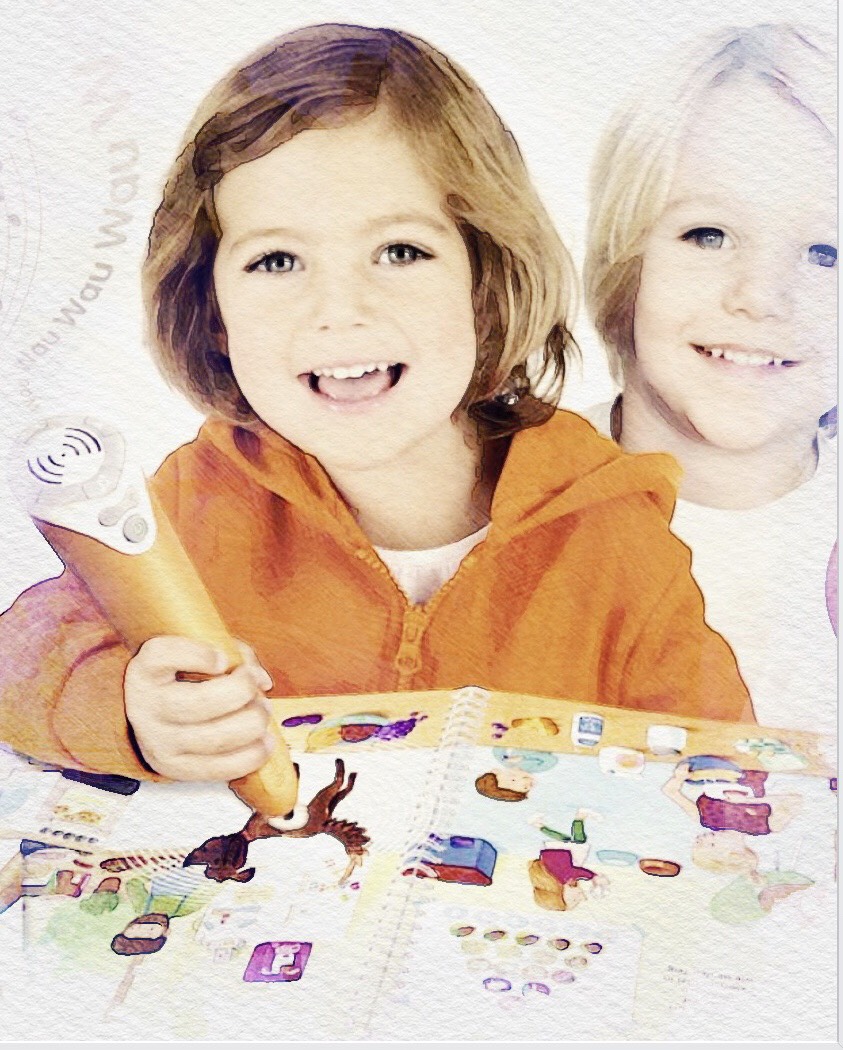 I learned about this great resource when visiting my cousin in Germany last month. As my cousin and I were strolling through bookstores, she pointed out a type of book that she thought was amazing for kids: tiptoi®. Having looked into these books in more detail, I can only say: she is absolutely right! 
What is tiptoi®?
tiptoi® is a digital audio learning system. Kids can use an electronic pen (den Stift) when interacting with tiptoi® books, games, puzzles, or even a globe. See here how it works.
The Stift has a built-in microphone. So children can use it to touch different elements printed on the pages of a book and then listen to sounds or listen to a story that is being read aloud. They can even play question-and-answer games when using the Stift on the different pages of a book. When I first heard about the concept, I imagined the books to be pretty bulky with a bunch of electronics wired in them. But in reality, they feel like normal books with high-quality art work! When I first held a tiptoi book in hand, it wasn't immediately obvious to me how they worked. In other words, you would not think that they are part of a digital system. 
Why is tiptoi® great?
In our family we follow the one parent one language rule (OPOL). That means, my husband who is monolingual English, speaks English with Ella and I speak German to her. Among the three of us, we speak English. Additionally, at daycare Ella is exposed to mainly English (and a bit of Spanish). In other words, I'm the primary input she has on a daily basis when it comes to German, her minority language. Although I'm trying to use a broad range of words and expose her to ever new vocabulary, there is only so much input I can provide. Now this is where tiptoi® books come in handy!
Not only does it provide input and exposure, but it can also give you as the speaker of the minority language a break. Let the tiptoi provide the input! Also, when you are not a native speaker, but are looking for some input for your child in the target language, you can use the tiptoi® system. It comes in a number of different languages—including German and English! Plus, they offer a very broad range of topics, subjects, and areas of interest for kids.
How does tiptoi® work?
The key thing is the Stift. You can get it as part of a starter package or buy it individually. The Stift is also the piece that makes the starter set a bit pricy (it's currently about $80 on amazon.com). But once you have a Stift, you can use it on any tiptoi® device. 
All that's left to do is this: hook up the Stift to a computer via a USB cord, select the audio file for the product you want to download, download it, and you can start reading! The Stift can be used on any tiptoi product and it even has a headphone jack—a particularly useful touch when you are traveling with your kids in the car for several hours… However, you may want to take a couple of extra AA batteries for it if the road trip is bit longer so the Stift doesn't run out of juice. 
Leserabe —a book series to help kids learn how to read
Ravensburger offers different book series in tiptoi® format, including Bilderbuecher, Endecken und Wissen, Lernspass, Wieso? Weshalb? Warum?, and Leserabe. So far, I have only been able to try out the Leserabe series in a book store in Berlin. But I was pretty amazed by the concept. The Leserabe is a mascot that guides your kid through the reading process and provides support. 
So Leserabe books are conceptualized for beginning readers from 6-8 years of age. They feature easy reader stories and offer three different reading modes: 
Vorlesen (read to me): all your kid needs to do is tap on each page and the text is read aloud in an easy-to-follow pace with clear intonation.

Mitlesen (read along): here your child can tap a line and the text is read at a slower pace with emphasis on the different syllables—similar to intonation that you would use when helping your kid learn how to read.

Selbstlesen (read it myself): this is the "most advanced" setting in which the scaffolding (i.e., steps that provide help) is very much reduced. That means, only some, more difficult words are interactive. The Stift functions like a glossary. When you tap the word once, you hear the word read out loud, when you tap twice you learn more information about the word.

 
Several pages contain games and educational quizzes that promote reading in German (Leseverstehen) or any other language available. It's definitely worth a try!