Location: USA
Parents: English
Children: English & Portuguese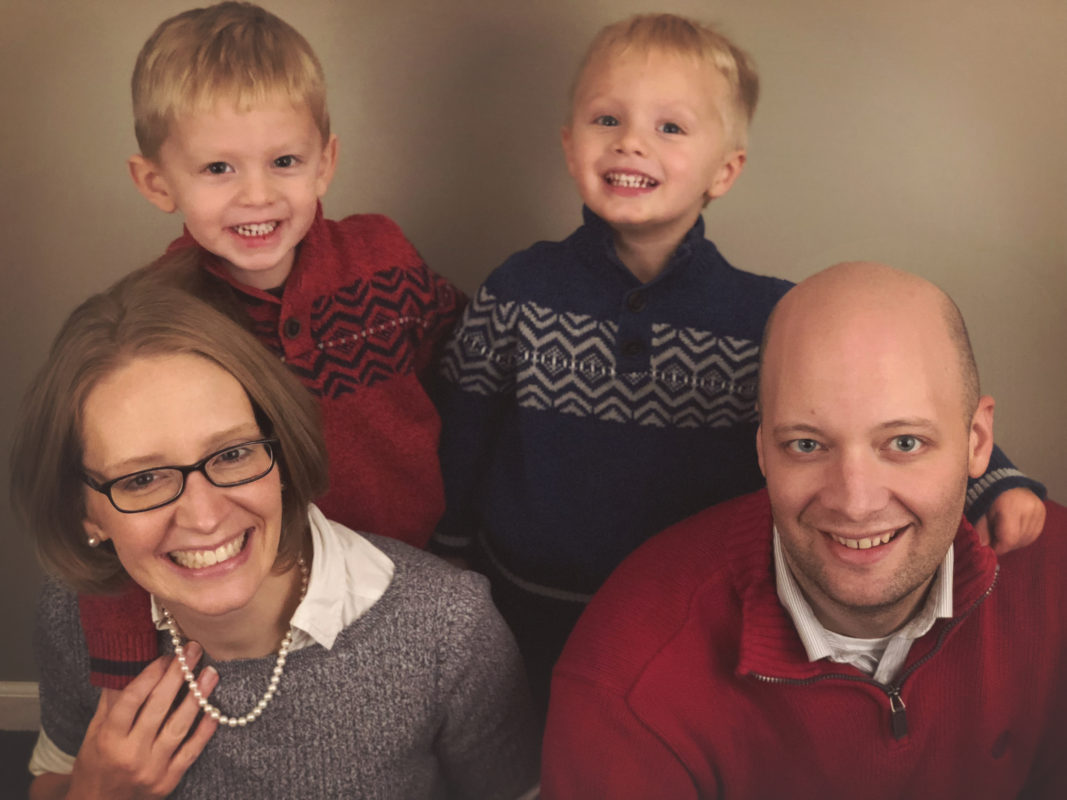 Katie and I have been friends since I was her family's first exchange student back in 1998. Ever since, our families have been visiting one another regularly and we have been sharing many fun memories of cultural adventures together. Katie and her husband Mark are Americans. They are both monolingual English speakers who wanted their children to experience other cultures and languages from an early age. So I asked her if she was willing to answer a few questions that I sent her via email. Here is how they have been making it possible for their 3-year old twin boys to grow up with two languages:
Veronika: So, to give our readers a bit of a background, what languages do your children speak?
Katie: English is the native language of my children and they have been learning Portuguese since they were one month old (when our first Brazilian au pair arrived).
Veronika: I truly admire your decision to raise the boys bilingually—especially because you and Mark are monolingual English speakers yourselves. What was the main reason for you to make that decision? In other words, why did you want your children to grow up bilingually?
Katie: Learning about cultures is very important to my family, especially during this tumultuous period in our country's history when "outsiders" are viewed as unwelcome in the melting pot that we call the United States.  By teaching my kids Portuguese, I hope that they will gain an appreciation that humans are not all cut from one cutter because you learn about the culture that accompanies the people that speak the second language you are learning. I want my kids to understand and accept that people can be different from you (e.g., citizenship, race, culture, language, sexual orientation etc.), and that's okay and something to appreciate!
My experiences instilled in me a love for learning about foreign cultures at an early age. In elementary school, my grandmother hosted exchange students from Spain and France; in high school and college, my parents hosted six German and one Australian exchange students and my sister went to Perth, AUS as an exchange student; and as a parent, we've had three different caregivers from Brazil for our kids, with our fourth arriving in July.  It has been fun to learn how some aspects of life are universal, while other aspects can be so different!
After taking some time to come to terms with the fact that I was expecting twins (with both my and my husband's families living over 500 miles away), I then started to freak out about what to do with the kids when I went back to work as a chemistry professor. The first time I heard the words au pair was from my yoga instructor about 4 months before the kids were set to arrive. Once I researched the au pair program, I knew that having an au pair was the perfect childcare option for us, in part because the boys could grow up learning a second language and about a second culture. German was my first choice because of my ancestors and studies, but we ended up selecting an au pair from Brazil. We knew nothing about the Brazilian culture, but we have gained an appreciation for the people of Brazil.
Secondly, I am a lifelong learner and I will teach my kids to seek knowledge constantly. By having the kids learn Portuguese at such an early age, I hope to set them on the path to appreciate languages and learn more than just English.
Veronika: As a monolingual English speaker, how do you manage that your kids actually speak two languages?
Katie: Both my husband and I are monolingual English speakers (I took German in high school and college and my husband took Spanish). The main way that I get the kids to speak two languages is hosting au pairs as our childcare option. We requested that our caregivers speak exclusively Portuguese to the kids and talk English with us (we tell them that they will learn more English from us than the kids). Our first au pair started living with and speaking to them when they were only one month old. As the kids grew up and started to speak, our au pair would tell the kids "I don't understand" if they tried to talk to her in English. As they started talking more, I liked hearing the kids request água instead of water and tell me te amo to let me know that they love me. At the same time, it felt a little odd because when they first started talking, only our au pair knew if the kids were babbling, speaking English or speaking Portuguese!
In addition, I encourage the kids to watch music videos and movies in Portuguese. Happily, I recently discovered that some of the Disney movies have Portuguese audio tracks and I have been searching for more media that are in Portuguese for my kids to listen to or watch.
Finally, I am currently trying to learn Portuguese using Mango and Duolingo so I can try to communicate with the boys in Portuguese. I've picked up words and phrases just from listening to the Portuguese speakers in my house.
Veronika: So when do the boys speak which language?
Katie: The kids mainly speak English, but they do speak Portuguese in front of the Brazilian au pairs (so I'm told, but I haven't witnessed it myself). The kids do not like to speak Portuguese in front of me for some reason. Sometimes, I spatter off some elementary sentence in Portuguese to them (Eu gosta de vocês, which means I like both of you) just to let them know that I understand some Portuguese. Sometimes, they may respond with a simple phrase, but I usually just get a smile!
Veronika: They probably know exactly that you do not speak Portuguese. So with whom do they speak which language?
Katie: The kids essentially refuse to speak Portuguese any time they are in my presence. For example, the boys, our Brazilian au pair and I went to visit our first Brazilian au pair (Suh) one day at her house about 40 minutes from us right after (Suh remained in the US after her time as an au pair with us, got married, and had a baby). Suh's mom and sister just happened to be visiting from Brazil. Everyone in the house spoke Portuguese except for me and the boys refused to talk to anyone in Portuguese. As another example, I discovered that a room steward on our last cruise was from Brazil and I talked to him (proudly) about my Portuguese-speaking boys. As kids do, they made a liar out of me and spoke zero Portuguese to him; in fact, I spoke more Portuguese to him than they did!
Veronika: They probably knew exactly that both you and the steward spoke English… Have you encountered any particular challenges in terms of raising them with two languages?
Katie: The current challenge I am facing is that the boys will not speak Portuguese in front of anyone except for the Brazilian caregivers. I suspect that they are understanding more, but aren't practicing speaking. We are getting a new au pair in July and I am going to ask her to speak to the boys only when they speak to her in Portuguese.
The future challenge that I face is keeping Portuguese a part of their life after we stop having native Portuguese speakers live with us once the boys start kindergarten. I plan to encourage them to watch and listen to Portuguese music and movies.
Veronika: What advice would you give to other monolingual parents who would like to raise their kids bilingual?
Katie: I love having bilingual babies and would raise them bilingually from the start in a heartbeat! We chose to have au pairs in order for our kids to learn a second language, but I'm sure that you could find other options that suite your situation.
Veronika: Many thanks for taking the time and for sharing your situation!