Hi!
I'm Veronika Laughlin. Growing up in Germany as a monolingual German, I started to develop an affinity for different languages and cultures in school. I spent time as a student in England, Mexico, and the United States—studying and teaching German, English, and Spanish. I eventually graduated with a PhD in Second Language Teaching and Learning and turned my passion for languages into a job as a research scientist, investigating how to best facilitate language learning. So it is probably not surprising that my private life is also full of different languages and cultures. I now live in New Jersey, am married to a native Hawaiian, and have a toddler who is starting to speak English and German with a few words in Hawaiian.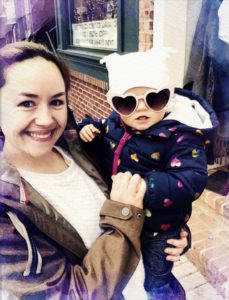 Being a mom and raising a bilingual child has been by far the most exciting adventure. I get to experience first-hand how speech and languages develop in my daughter. Lately, I also found myself in different conversations with friends, trying to respond to questions such as
"Can I raise Zach and Alex bilingually if I only speak English?" Or "What's the best way to expose Julian to a different language?"
By no means do I have all of the answers, but I truly believe that exposure to different languages is one of the most valuable gifts we can give to a child—whether we as parents speak one, two, three or more languages ourselves. So on this blog, I'm sharing my experiences, knowledge, tips, and strategies on why and how to give your child the gift of multiple languages.
Interested? Stay up to date on new posts, ideas, and events!
Sign up for the free Bilingual Babies newsletter!